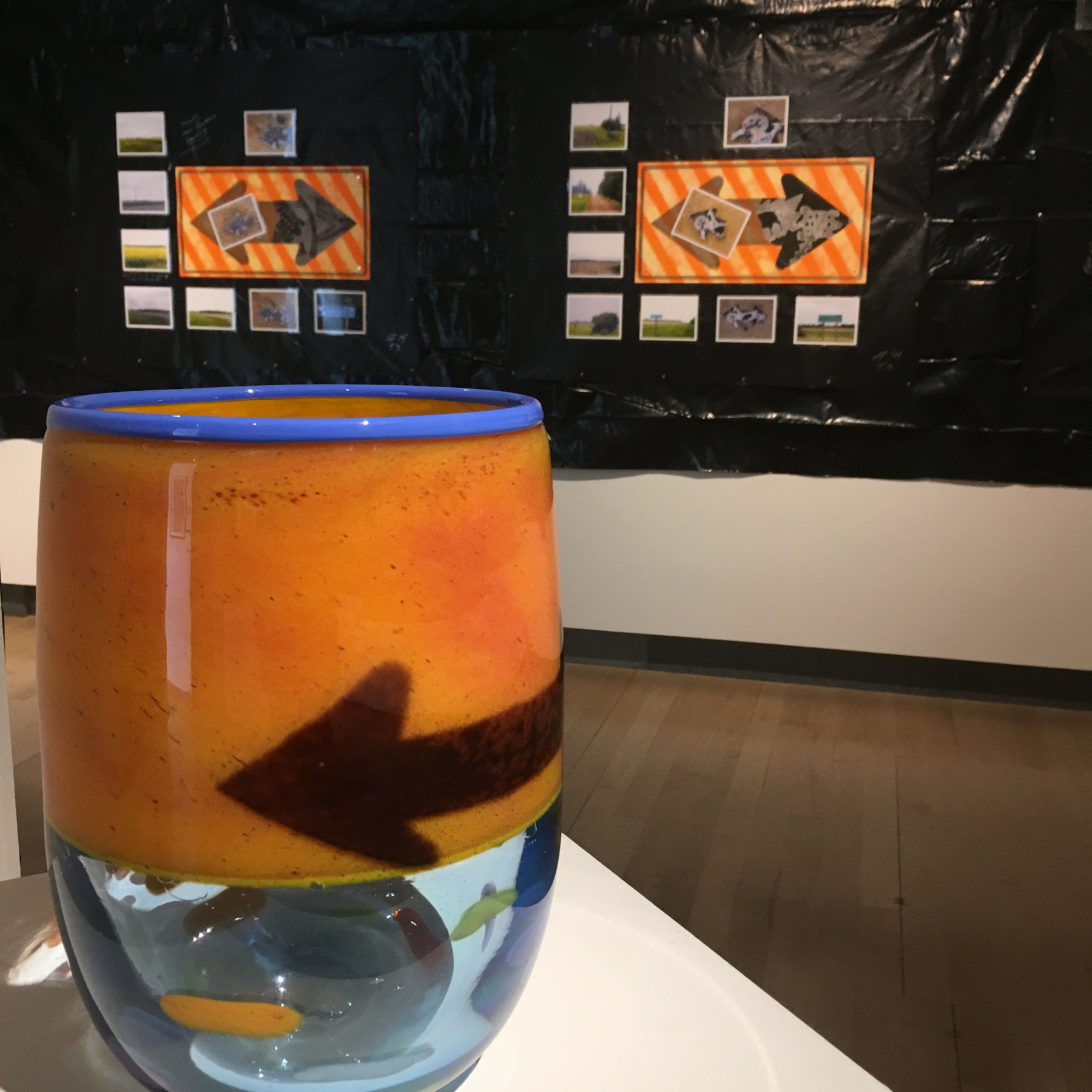 Corwin Clairmont: Two-Headed Arrow/The Tar Sands Project
March 27 2018 - August 11 2018
Corwin "Corky" Clairmont (Salish-Kootenai) is one of Montana's most important living artists. He is a soft-spoken man who has expressed his strong convictions through art for five decades. He spent the 1970s as a practicing artist and professor at Otis Art Institute in Los Angeles, where he was influenced by his contemporary, John Baldessari, and the conceptual art movement that was gaining steam. Clairmont's visual language has fully developed over his long career. He adeptly combines the methods of conceptualism to guide content with a mastery of printmaking to create richly-colored monotypes that are layered with symbolism. He consistently addresses themes of environmental degradation and the effects on humans and wildlife.
This installation, Two-Headed Arrow/The Tar Sands Project, is the culmination of more than two years' work. At its core, the project is a wide-ranging conceptual and performative piece that covered nearly 900 miles. The journey began the summer of 2014 at MAM and ended at Suncor mining operations at the Athabasca tar sands in Alberta, Canada. Every 25 miles along the route, Clairmont stopped and repeated the same act. First, he placed a print of a two-headed arrow on the ground, oriented north to south. Then he positioned a gummy bear on each cardinal point surrounding the arrow. Clairmont photographed each mini-installation at its outdoor site and documented the environment with photographs looking North, South, East, and West. Next, Clairmont ripped the arrow print in half, leaving one head pointing north with the gummy bears in place and took the other half with him. At his final destination in Fort McMurray, Clairmont chartered a plane and took aerial photographs of the tar sands mining sites—gray landscapes barren and bereft of wildlife or forests.
In the exhibition, the half-prints that Clairmont retained are used to create new works related to each of the 37 sites along the Missoula-to-Fort McMurray trip. Using the same process, Clairmont created unique works from sites around the country and in China. One site is at Standing Rock in North Dakota and connects the Dakota Access Pipeline controversy to this project, years after Clairmont's visit to the tar sands. These works are combined in the exhibition to remind the viewer that the consequences of decisions made in one place and time affect all life on the planet.
Clairmont was born on the Flathead Reservation and is an enrolled member of the Confederated Salish and Kootenai Tribes. He received a BFA at Montana State University and went on to earn his MFA at California State University in Los Angeles in 1971. He returned to Montana in 1984 to work as an administrator at the Salish Kootenai College in Pablo, where he was instrumental in creating the Fine Arts Department.