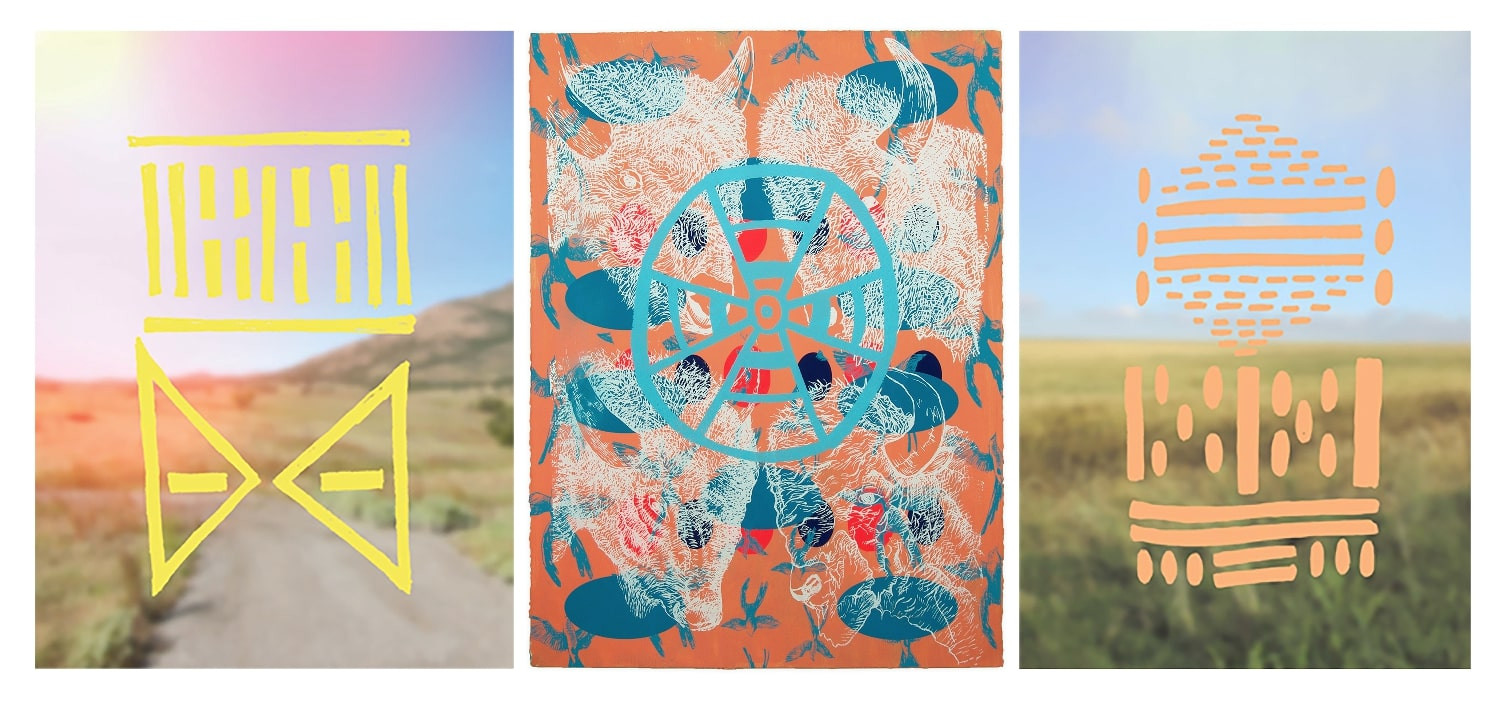 John Hitchcock: Bury The Hatchet/Prayer For My P'ah-be
May 2 2019 - September 13 2019
Bury the Hatchet is Comanche/Kiowa/German/Dutch artist John Hitchcock's mixed-media, cross-disciplinary, multisensory installation. The exhibition is based on the American Frontier and plays off the theme of the Buffalo Bill Wild West Show. The variety of elements that form the exhibition were inspired by Hitchcock's research while he was artist-in-residence at the Buffalo Bill Center of the West in Cody, Wyoming. He says, "The new artworks will challenge historical perspectives by reframing history and asking new questions about the idea of the Wild West show and the importance of the American Indian objects collected by Buffalo Bill." Hitchcock's reinterpretation of Buffalo Bill Cody's traveling show explores assimilation, acculturation, and the colonial indoctrination of indigenous people through sound, video performance, and screen prints.

The installation features a sound stage, neon sculptures, and the work from the print series, Flatlander. The iconic buffalo skull form in glowing neon accentuates the romanticized views of the Wild West while acting as a metaphor for marketing and selling cultural artifacts. Hitchcock regularly uses images of the buffalo and other wildlife as symbols and references in his print work. The Flatlander series includes 40 screenprints that Hitchcock created with MATRIX Press, University of Montana in 2017. Throughout the installation, a sound recording intertwines storytelling and Kiowa and Comanche songs with soundscapes that include cello, clarinet, accordion, and guitars by
Hitchcock and the band, Nate Meng and The Stolen Sea. At the exhibition's opening reception, Hitchcock and the band will perform live. The visual and sound recordings in the exhibition work together to challenge Western perspectives of the supremacy of the written word by reinforcing indigenous views of oral history passed on from generation to generation through storytelling.
Hitchcock is a professor of printmaking and associate dean for the arts, School of Education at the University of Wisconsin in Madison. MAM worked with him in 2017 and 2018 as one of four indigenous artists who participated in the multiyear collaboration with MATRIX Press that ended with the group exhibition The Shape of Things, New Approaches to Indigenous Abstraction. MAM is honored that he chose to debut his ambitious new installation in the Lynda M. Frost Contemporary American Indian Art Gallery. The exhibition has an accompanying limited-edition 12-inch vinyl album, CD, and set of letterpress prints available through Sunday Night records. This John Hitchcock project is made possible with generous support from the Cultural Vision Fund.
Related programming:
Art Swing with Exhibition Artists: Friday, May 31, 5–8 pm, Bury the Hatchet performance at 6 pm and 7:30 pm
Nate Meng and The Stolen Sea at Zootown Arts Community Center, Saturday, June 1