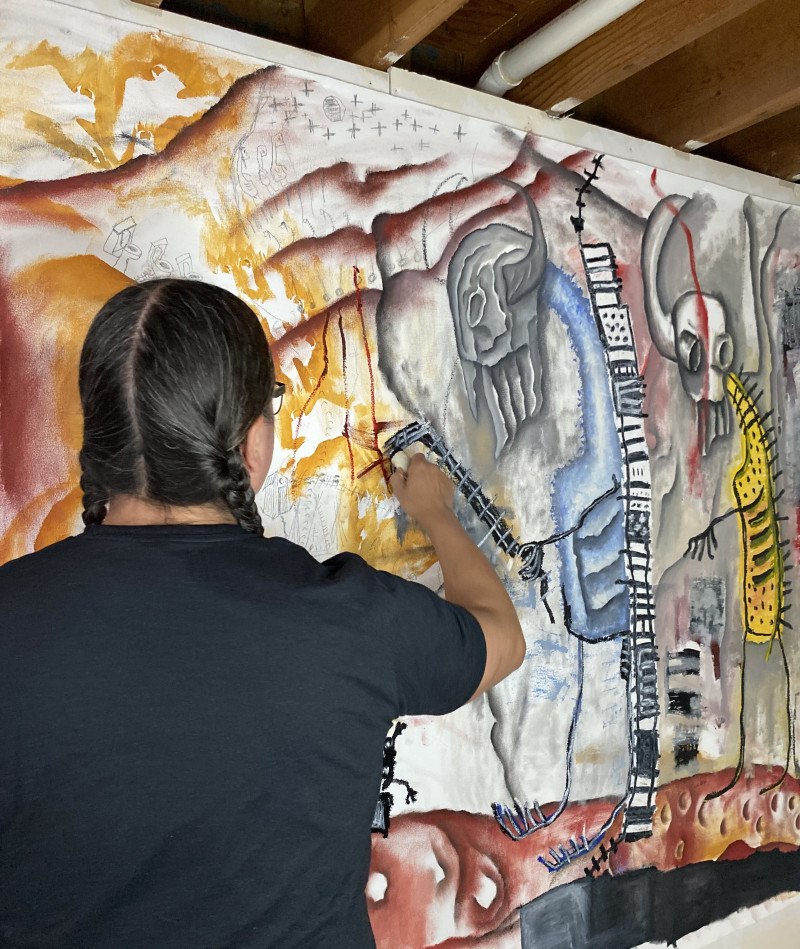 Sean Chandler: The One Defined To Be No One
May 7 2021 - August 14 2021
Sean Chandler's first solo exhibition in Montana, The One Defined To Be No One, will be featured in The Lynda M. Frost Gallery of Contemporary American Indian Art, a space dedicated to perpetually exhibiting contemporary Native artists. A catalog of his work is available for purchase.

Chandler (Aaniiih, born 1971) put his promising artistic career on hold to respond to a need for leadership in his community. He grew up in Glendive, Montana, and his family was one of the only Native families in the community. He received his B.A. in Art and M.A. in Native Studies at Montana State University in Bozeman. He later earned an Ed.D. in Educational Leadership from the University of Montana while employed as Director of American Indian Studies at Aaniiih Nakoda College on Fort Belknap Agency in Harlem, Montana. He was promoted to president of the college in August 2020. After nearly a 12 year hiatus, Chandler returned to creating art in 2018 and joined the artist collective Paintallica. His pieces range from oil, acrylic, paint stick, and charcoal on large canvases to drypoint prints and drawings. His work infuses experiences from his childhood in eastern Montana, including his love of Major League Baseball, and the history of Native assimilation into white culture, as well as teachings from his father. His father, Al Chandler, attended Indian Residential Schools near Pierre, South Dakota, and was later the focus of a PBS documentary short called I'd Rather Be Powwowing, which debuted in 1983. He cites Blackfeet artist Ernie Pepion (1943–2005), Salish Kootenai artist Corwin Clairmont, and Bozeman-based artist Jay Schmidt as mentors.
Sean Chandler has received awards and exhibited at the Heard Museum in Phoenix, AZ, and the Eiteljorg Museum in Indianapolis, IN, with work collected by the Museum of Natural History in Paris and the Minneapolis Institute of Arts Museum, MN.

This is exhibit is now available through the Montana Art Gallery and Director's Association (MAGDA). Read the full proposal here.