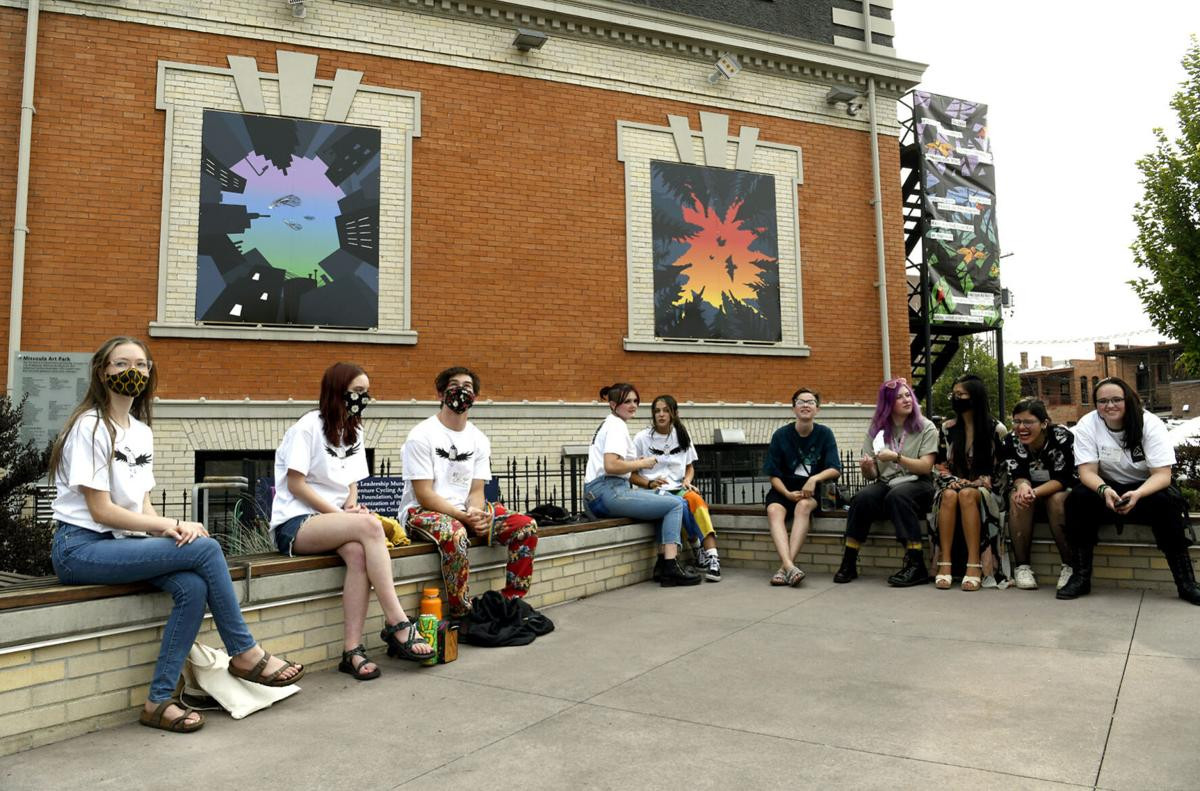 TAP 2021: What Is Freedom?
Resident Artist Janaina Vieira-Marques collaborated with twenty dedicated high school students for MAM's first-ever summer Teen Art Project (TAP). This free arts and leadership program inspired community youth to develop content and design large murals based on the question: What is freedom? The project fostered community conversation and civic engagement while helping youth find and amplify their civic voice. Students reflected on their rights in relation to responsibility while addressing the freedom to be in nature, freedom of choice, and freedom of expression. This mural on display in the Allez alley is one of nine TAP public art murals that will hang on the exterior of MAM and Adventure Cycling from August to October of this year.
MAM's year-round TAP program is free to middle- and high-schoolers. Teens work independently and collaboratively with professional artists to create and learn new art techniques in a creative museum environment with access to unlimited art supplies and materials. Teens engage with exhibitions gain and experience preparing and installing their art, sketches, and designs in the Lela Autio Education Gallery at MAM. Food and drink provided by Bridge Pizza.
TAP Summer program is funded in part by the Montana Arts Council, Adventure Cycling, the Dennis and Phyllis Washington Foundation, and the Missoula Downtown Foundation (a partner organization of the Downtown Missoula Partnership).

The piece you're looking at is called Beauty in Disaster. The participants describe how they came to create this mural:
"The concept for the piece began with the idea of calm. When you're watching a sunset you aren't worried—it's almost like waking up in the morning, like a fresh state. Watching the sunset feels free. Then, the mountains were added in and it looked like a mask. The mask represents the stress that everyone has been feeling in 2020 and 2021. The juxtaposition of the calm sunset with the stress of pandemic shows that there is always a positive side of things when a difficult situation presents itself. For Montanans, this positive side is presented in nature. It is the beauty in the disaster."
A collaborative statement about the project from the participants is listed below:

"We all came together for a variety of reasons. Whether we originally came to TAP to express and advance our creative abilities, create something for our community, or make our voices heard, we all had one primary goal: show Missoula what freedom means to the youth. Ultimately, through large group discussions, we developed three key freedoms we wanted to address. The freedom to be in nature, because we, as Montanans, feel the freest outdoors; the freedom of expression, because being our truest selves makes us feel free; and the freedom of choice, because we as a group feel that everyone has a right to choose their pathway in this life. We created nine pieces each of which are tied together through color schemes, natural elements, and what the group sees as freedom. We feel that it's important for the youth to express their ideas of freedom as we will become the next generation in power. We are the future and our voices matter, so be sure to listen."
Hear from each participant as they answer the question "What is freedom?"