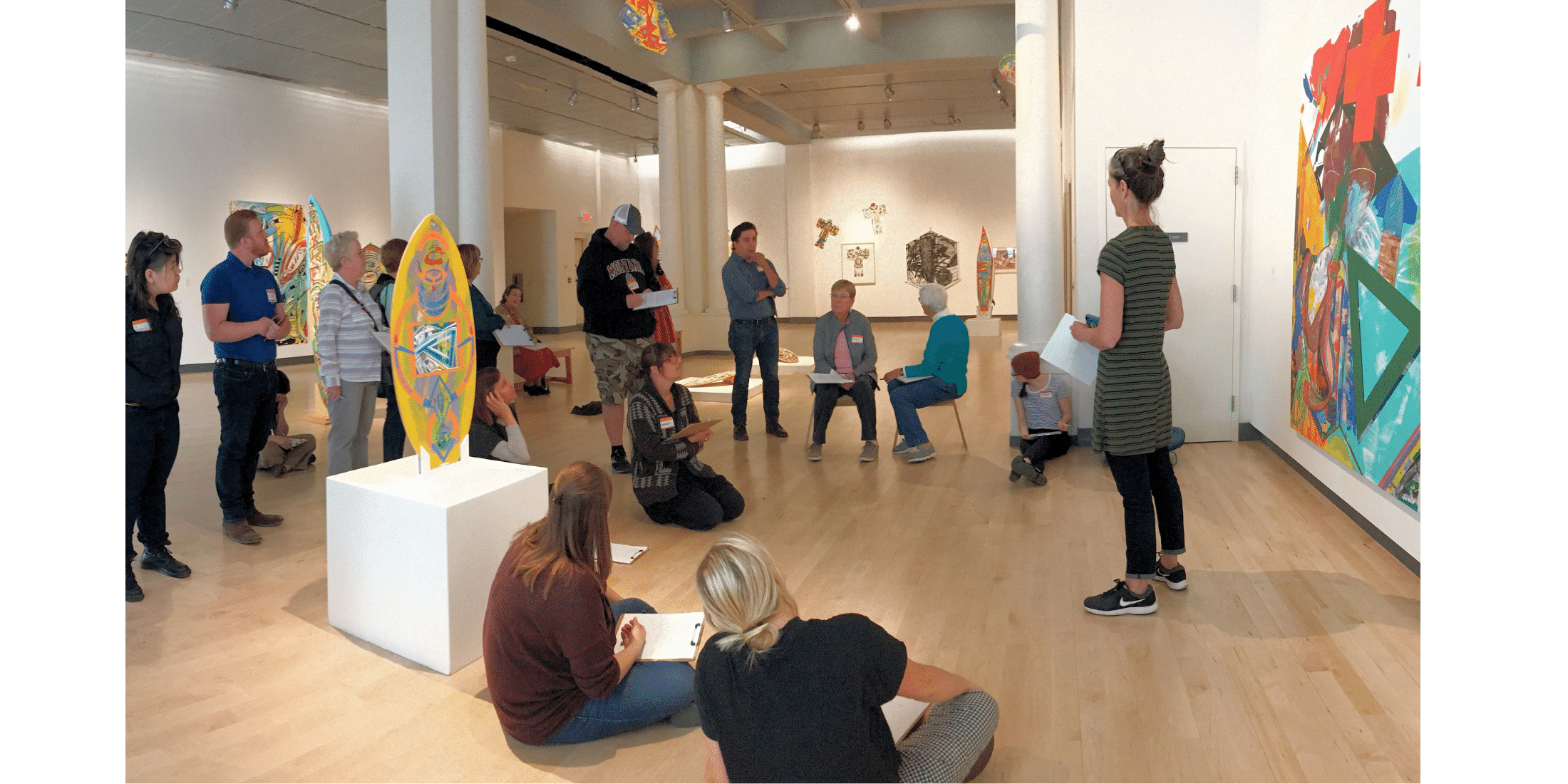 The education staff at the Missoula Art Museum offer FREE professional development to teaching artists, volunteer docents, teachers, and educators of all grade levels and subject areas. Using the inquiry method of open-ended questions and facilitated conversation, we preference personal connection with art and share best practices in the field of art and museum education. Do you enjoy art and want to learn more about how artists think and work? Do you want to incorporate the creative process into your classroom? Are you interested in an arts-integrated curriculum and infusing contemporary art into your social studies, math, or an Indian Education for All (IEFA) lesson? MAM can help!
Resources
Can't make it to an upcoming workshop? No problem! MAM has put together a library of virtual assets like learning modules, distance-learning programs, instructional videos, and worksheets. Visit Teacher Resources to access it all, for free!
Click here!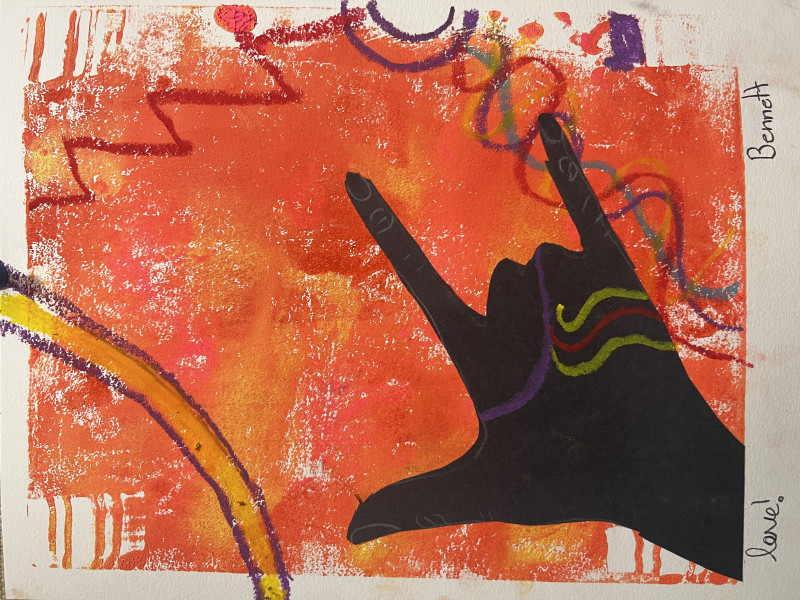 Fifth Grade Art Experience (FGAE)
38th Year: 2023–2024
Welcome to the Missoula Art Museum's 37th annual Fifth Grade Art Experience (FGAE). The Missoula Art Museum (MAM) welcomes fifth grade classrooms again this year for FREE art-looking and art-making experiences focused on three extraordinary contemporary art exhibitions (see below). After touring the galleries with docents, students will work with a professional artist to create their original piece of art based on the art of Molly Murphy Adams. Following the art-making session, students will eat their lunches in the classroom and then walk to the Missoula Public Library for a tour, related storytelling, and an opportunity to get a library card. FGAE begins on Tuesday, October 3 and runs through Friday, December 21. Special thanks to the Art Associates of Missoula, MCPS, the Jane S. Heman Foundation, and Inspired Classroom for their partnership and support! NOTE! A virtual version of FGAE, Museum as Megaphone, will be held the week of December 11−15, offering a special "Live Day with the Artist."

Exhibitions:
Molly Murphy Adams: The Space Between
Make it Funky: Bay Area Influence on Missoula Ceramics
Joeann Daley: Montana Remembered
If you are interested in signing up for FGAE, please contact Megan Kleen at megan@missoulaartmuseum.org. If you have specific questions about the program, contact Janaína Vieira-Marques at: janaina@missoulaartmuseum.org.
FGAE Schedule:

9 AM: Class arrives at MAM.
9-9:30 AM: Intro and welcome in the classroom.
9:30-10:30 AM: Tour three exhibitions in small groups.
10:30-11:30 AM: Hands-on artmaking with a professional teaching artist.
11:30 AM-12 PM: Clean up and lunch in the classroom or the MAM Art Park; classes walk over the new Missoula County Public Library for a tour and related stories. HERE is a link to apply for a library card.
FGAE Docent Trainings: Developed to support learning for educators and docents who want to expand their knowledge of leading a tour and understanding of the artwork on display, and enhance their learning about DEI (diversity, Equity, and Inclusion) in classroom and museum settings. Interested in becoming a MAM Docent? Please attend the trainings and contact kay@missoulaartmuseum.org.
Docent Training Schedule: 8:45am – 10:15am
Thursday, August 31: Intro to MAM
Thursday, September 7: The Inquiry Method
Thursday, September 14: DEI (diversity, Equity, and Inclusion) in a classroom and a museum setting
Tuesday, September 19: Practice Tours
Thursday, September 21: Curator talk and visit to the galleries
Thursday, September 28: Making Art Project *limited space
Learn More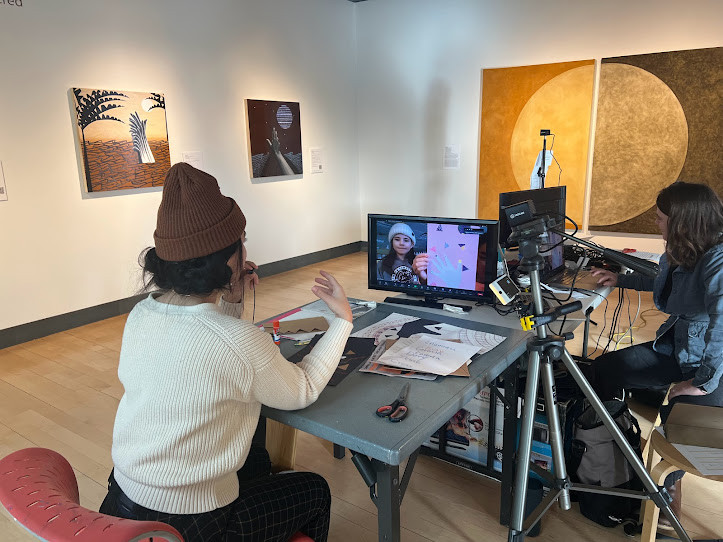 Museum as Megaphone
What is Museum as Megaphone?
Museum as Megaphone is the Missoula Art Museum's distance learning platform. It gives students and teachers access to contemporary art exhibitions on view at MAM, and a chance to interact directly with artists and arts educators. Students and teachers from schools all over the state can participate in real-time, interactive tours in the MAM galleries. MAM's arts educators lead students on an inquiry-based tour to engage and promote self-discovery through dialogue and discussion. Each course is self-paced and is not timed. The steps can be completed as a class or assigned as independent work. We have created these programs to mirror the experience of coming into the museum galleries as closely as possible. This includes video tours, art-making instructions for projects, resource lists, and more! Museum as Megaphone was created in partnership with Inspired Classroom.
Learn More!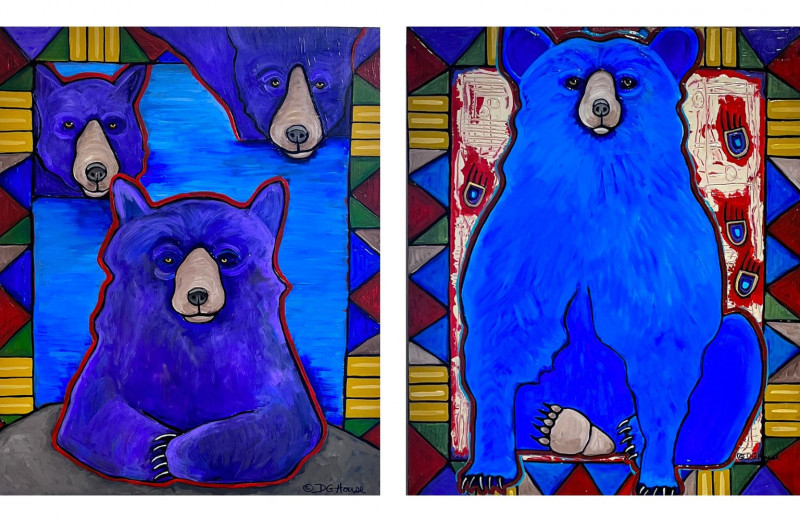 Professional Development for Educators
MAM offers regular professional development opportunities for educators. Educators of all subject areas and grade levels are welcome to participate in arts-integrated workshops. These workshops are often in partnership with Indian Education Specialists from the Office of Public Instruction, and highlight MAM's dedicated Lynda M. Frost Contemporary American Indian Art Gallery. Explore exhibitions featuring Contemporary American Indian art and connect to the Seven Essential Understandings of Indian Education for All (IEFA). Topics covered may include: language and vocabulary, appreciation vs. appropriation, and creating space to amplify Native voices. Participants will experience an increased comfort level in incorporating IEFA in their classroom and using MAM and contemporary art as a resource. PIR credits offered.
Using MAM's Contemporary American Indian Art Collection and works on view, these hands-on workshops connect with the core values and mission of MAM to provide art educators with enrichment opportunities and share best practices in the field.
Educator Workshop Thursday, February 22 from 3:45-5:15 PM



Learn More!