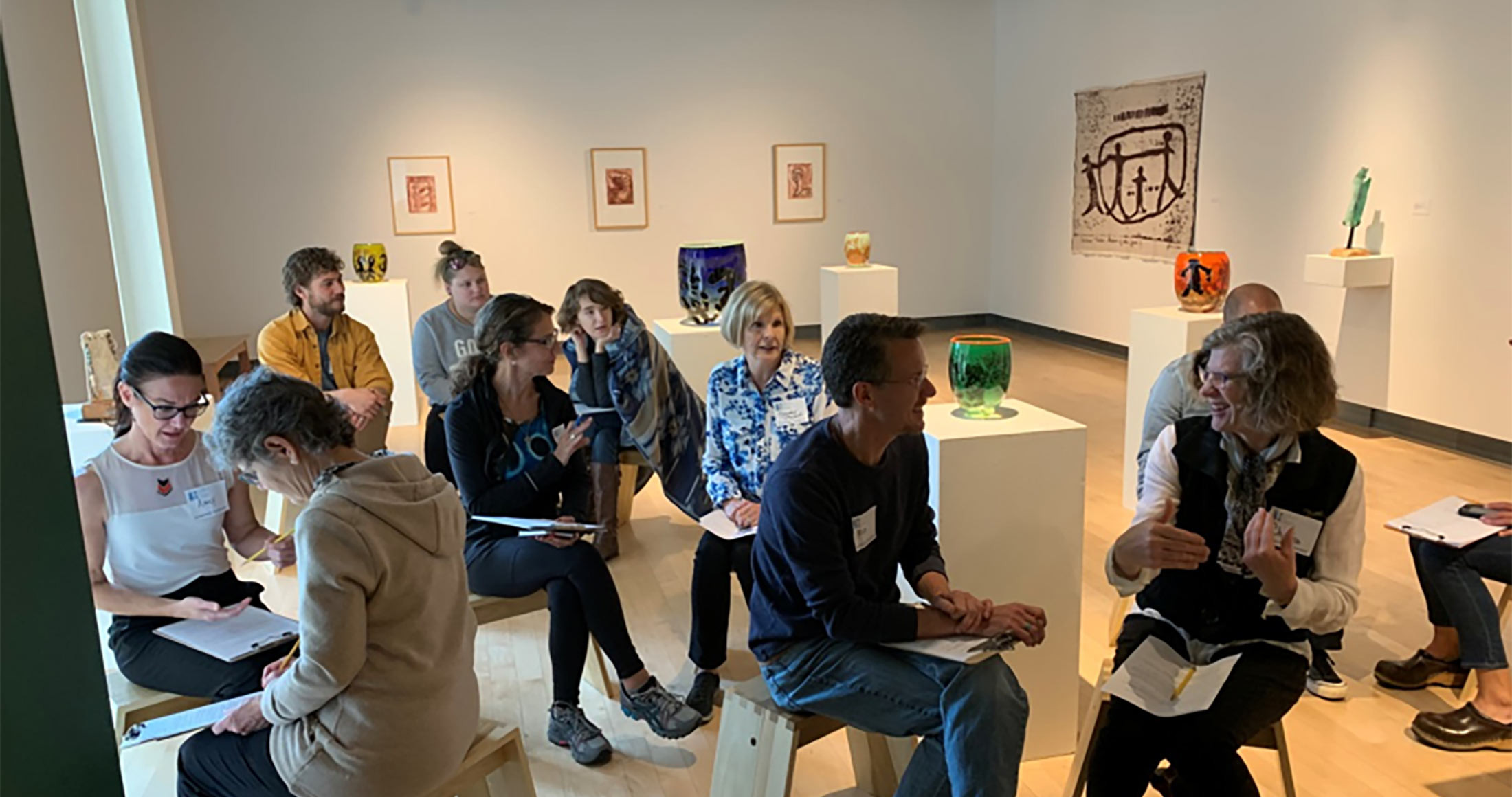 MAM's education team offers on-going professional development to teaching artists, volunteer docents, classroom teachers, and educators of all grade levels and subject areas. Using the inquiry method of open-ended questions and facilitated conversation, we preference personal connection with art and share best practices in the field of art and museum education. Do you enjoy art and want to learn more about how artists think and work? Do you want to incorporate the creative process into your classroom? Are you interested in arts-integrated curriculum and infusing contemporary art into your social studies, math, or an Indian Education for All (IEFA) lesson? MAM can help! You will take away strategies you can use.
Teacher Resources
DISTANCE AND REMOTE LEARNING
The newest collection show, Love Letters to the Collection, seeks to expand the significance of the Contemporary American Indian Art Collection at MAM. Though the museum is closed, this exhibition is perfectly suited to engage with from the comfort and safety of your home.
The Teachable course featuring this exhibition is LIVE and features in-depth biographies of artists, a history of the museum, artist statements, and more. Fami ly Watch by Donna Loos was installed *just* before we closed, but you can still experience it! Each piece on view has its own email address and we encourage you to write your own love letter as you virtually explore this exhibition. Free (as always!) and open to all ages, including young adults and teens.
MAM believes that if a single artwork can depict the ideas of an individual artist, then a collection of art can embody the character of a community. We're all ears and can't wait to hear what you have to say! All letters we receive will be added to the object record for each artwork. Add to our collective history with your voice!
In 2019, the Missoula Art Museum teamed up with Inspired Classroom, a local education-tech company. Together they launched Museum as Megaphone, a free distance-learning platform that allows teachers and students to visit the museum virtually from their classrooms. Modeled after the successful Fifth Grade Art Experience (FGAE) program, Museum as Megaphone includes gallery tours, engaging discussions, and a hands-on art making activity. Click here to watch a video of the soft launch of this program with a school from St. Ignatious, Montana.
The live day launch was on February 10, 2020 and served over 150 students from 7 schools across the state, some as far as the Fort Peck Indian Reservation. In the wake of rapid school closures due to the coronavirus, and the need for social distancing, the education team at MAM quickly modified the curriculum to an "on demand" format where users can log on and access the content for free, whenever they like. Click here to learn about how to access this program.
The platform includes video tours of the building and galleries, high-resolution images, history of the museum, easy to understand curricula about contemporary art, and a hands-on art-making guide. Megaphone offers professional-grade resources to bring the work of three artists into your home – all for free!
The content meets national and state standards in four areas: visual art, language arts, social studies, and Indian Education for All (IEFA). Modeled after the 34th year of FGAE, the pilot season of Museum as Megaphone focuses on the art of Indigenous artists Rick Bartow (Mad River Band Wiyot) and Lillian Pitt (Wasco, Warm Springs, Yakama). This focus is rooted in the museum's commitment to exhibiting contemporary Native American artists and providing access to rural and tribal communities.
We also recommend referring to SPARK! Arts growing list of online resources to bring the arts into your home while schools, museums, and libraries are closed.
Teacher Workshops
MAM's Education Team offers regular professional development opportunities for educators. Educators of all subject areas and grade levels are welcome to participate in arts integrated workshops. These workshops are often in partnership with Indian Education Specialists from the Office of Public Instruction, and highlight MAM's dedicated Lynda M. Frost Contemporary American Indian Art Gallery. Explore exhibitions featuring Contemporary American Indian art and connect to the Seven Essential Understandings of Indian Education for All (IEFA). Topics covered may include: language and vocabulary, appreciation vs appropriation, and creating space to amplify Native voices. Participants will experience an increased comfort level in incorporating IEFA in their classroom and using MAM and contemporary art as a resource. You will take away strategies you can use. PIR credits offered. Email Educator and Outreach Specialist Jenny Bevill at jenny@missoulaartmuseum.org for more information or to RSVP.
Using MAM's Contemporary American Indian Art Collection and works on view, these hands-on workshops connect with the core values and mission of MAM to provide arts educators with enrichment opportunities and share best practices in the field.