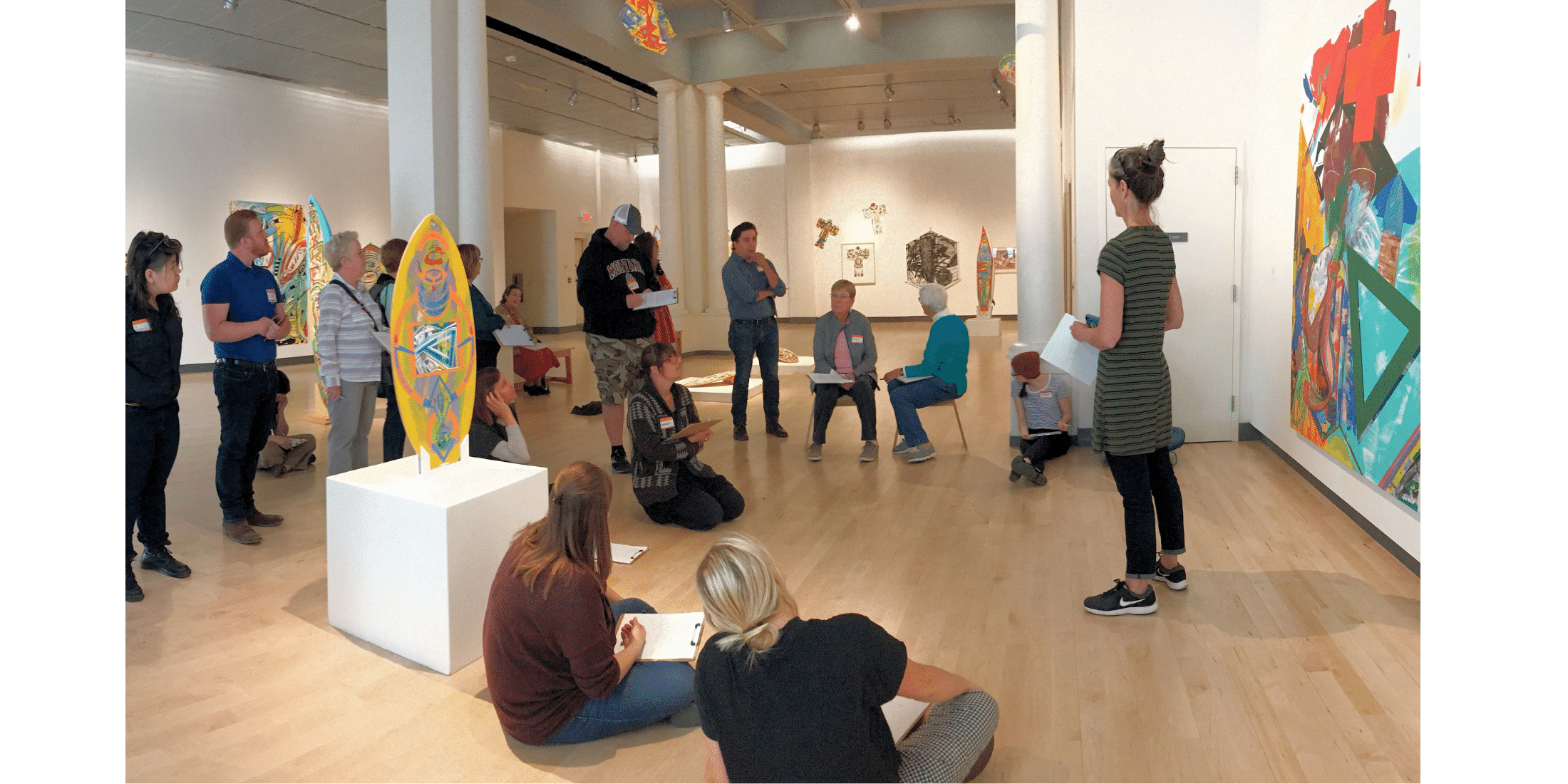 The education staff at the Missoula Art Museum offer FREE professional development to teaching artists, volunteer docents, teachers, and educators of all grade levels and subject areas. Using the inquiry method of open-ended questions and facilitated conversation, we preference personal connection with art and share best practices in the field of art and museum education. Do you enjoy art and want to learn more about how artists think and work? Do you want to incorporate the creative process into your classroom? Are you interested in an arts-integrated curriculum and infusing contemporary art into your social studies, math, or an Indian Education for All (IEFA) lesson? MAM can help!
Educator Workshop
MAM offers regular professional development opportunities for educators. Educators of all subject areas and grade levels are welcome to participate in arts-integrated workshops. These workshops are often in partnership with Indian Education Specialists from the Office of Public Instruction, and highlight MAM's dedicated Lynda M. Frost Contemporary American Indian Art Gallery. Explore exhibitions featuring Contemporary American Indian art and connect to the Seven Essential Understandings of Indian Education for All (IEFA). Topics covered may include: language and vocabulary, appreciation vs. appropriation, and creating space to amplify Native voices. Participants will experience an increased comfort level in incorporating IEFA in their classroom and using MAM and contemporary art as a resource. PIR credits offered.
Using MAM's Contemporary American Indian Art Collection and works on view, these hands-on workshops connect with the core values and mission of MAM to provide art educators with enrichment opportunities and share best practices in the field.
More Information
Resources
Can't make it to an upcoming workshop? No problem! MAM has put together a library of virtual assets like learning modules, distance-learning programs, instructional videos, and worksheets. Visit Teacher Resources to access it all, for free!
Click here!